Bored of Directors?
---
Are your directors' meetings dull and boring?

Is one of your directors just taking up a seat?


Do they make you feel guilty because you asked them to volunteer?


Worse, are they eating a fancy lunch or dinner that you pay for?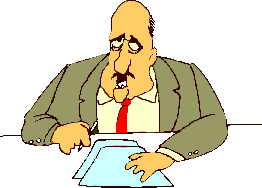 You probably thought that your directors would help you run the business. Un huh...and what other fairly tales do you believe in? Let's get down to the bottom line. When these boring people are not helping you or your business, they are killing your business. Get rid of them!

For a reasonable fee, you can have a director who knows how to be a director of a company because he or she has been a director of one or more successful companies. He or she will actually make critical, constructive comments. You will be politely and objectively challenged to explain your business plans. You will be encouraged to achieve new management heights. Each meeting will be a milestone for your company. After the meeting, you will feel quite good about yourself and the promise for your company will appear brighter.

Draw on a smorgasbord of devoted people especially prepared to serve as a director on the board of a small company. Call "Smorgy Board Directors" for one or more talented directors. The expense is relatively small, and in terms of what this new regime will do for you and your company, the cost will be negligible. Smorgy Board guarantees that you will no longer be bored of directors. Call 800 877-9598 and leave a message. And please... don't leave a boring message!

Awakened Eye







© 1996 URLy Sylke All Rights Reserved CREDITS