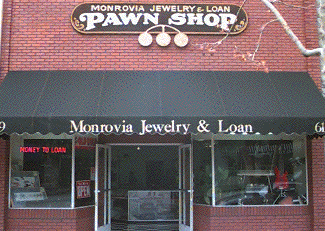 Monrovia Jewelry & Loan
619 S. Myrtle Ave.
Monrovia, CA 91016
(818) 358-2114

Monrovia Jewelry and Loan is the San Gabriel Valley's Oldest Pawn Shop,
serving this community for almost 50 years.
---
All loans are for 120 days, the lowest legal limits charged for all
loans, all loans done with complete confidentiality.


Outstanding value and bargains on out of pawn merchandise. Save at least
50% of the retail price. All jewelry items guaranteed to appraise for double
the purchase price or your money back.

Our friendly knowledgable staff is ready to serve you Monday thru Friday,
10:00 a.m. to 5:30 p.m. and Saturday 10:00 a.m. to 2:00 p.m.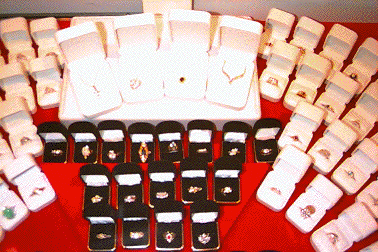 All electronic goods carry an in-house warranty.
We are a pawn shop licensed by the State of Californa, we are members of the
Collateral Loan And Second Hand Dealers Association of California, and
we belong to The National Pawn Brokers Association

---
Questions may be answered by calling 818-358-2114 or
1-800-6PAWNSHOP, or you may email us at LENDER@EARTHLINK.NET.
All comments and questions are greatly appreciated. You may also fax us at 818-359-1295, attention Robert Hammond.
---
---
© 1996 URLy Sylke All Rights Reserved CREDITS