Monrovia Fire Department
141 E. Lemon Ave.
Monrovia, CA 91016-2891
(818) 303-FIRE
(818) 358-1275 FAX
---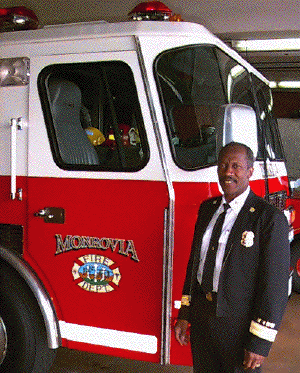 Fire Chief Ernest Mitchell
---
In 1995, the Monrovia Fire Department helped keep the community safe through various vital and proactive activities.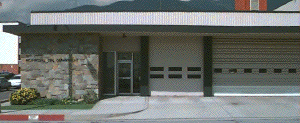 Fire Prevention/Public Education/Disaster Preparedness

The Neighborhood Emergency Action Team (N.E.A.T.) program went into full operation. All Neighborhood Watch Groups, service clubs, other community groups, and individual citizens were invited to participate. Participants provide emergency training to people in their families, neighborhoods or groups. Over 2,000 Monrovians have been trained by the department through the program, which is being emulated by many other San Gabriel Valley cities.

Two new videos were produced to provide training and information for the community. The first video for the N.E.A.T. program is also being used by the Federal Emergency Management Institute for training in some of its classes. The second video, "Surviving the Fire," provides instruction on what to do if fire strikes in your home or business. Both videos can be seen on local cable television.

The free smoke detector program for senior citizens continues. Approximately 50 smoke detectors were installed and another 100 were distributed.

The brush clearance season was very successful with voluntary compliance obtained from all but one resident. The department contracted with the California Conservation Corps to perform some brush clearance and fire-break work along several unimproved roads, trails, and other areas. The department coordinated the first use of fire retardant spray as a strategic fire prevention tool in the hazardous fire area.

An apartment building fire prevention inspection program was implemented to improve fire protection in the city's 280 apartment buildings.

During the second year of the Juvenile Fire Setter Program, approximately 12 children were counseled regarding their behavior related to fires.

The Fire Prevention Week Program was presented to over 800 students in public and private schools. It included presentations on fire safety, burn prevention, and disaster preparedness.

Emergency Operations Center training for city employees. The extensive Standardized Emergency Management System (S.E.M.S.) training for city employees was held monthly. The program requires specific levels of training for all employees and was based upon their anticipated roles during a disaster.

Three city-wide disaster drills were conducted during the year. The first simulated an earthquake incident. The second revolved around a hazardous materials problem. The third simulated an urban-wildland fire and involved other fire departments, non-profit agencies, and the state.

Training for city and school district employees in Cardiopulmonary Resuscitation (CPR) and First Aid was continued, with training in fire survival added.

With the assistance of KGEM, a bi-weekly Monrovia Fire Department News program began airing on cable television. The program highlights emergencies or other special events.


---
1995 Fire Department Statistics

Fire Incidents ................... 105
Emergency Medical Incidents .... 1,963
Hazardous Materials Incidents .. ....8
Other Service Calls ............ ..962
Total Incidents ................ 3,038


Incidents By District

District 1 (north of Huntington Dr.) ..... 1,770
District 2 (south of Huntington Dr.) ..... 1,268
Outside of city ............................ 144
Outside Aid Received on Incidents .......... 221
Average Response Time .................. .. 3.57 Minutes
Value of Property Involved in Fire ....... $27,355,200
Value of Property Loss ................... ...$526,200
Value of Property Saved .................. $26,829,000


---
---
© 1996 URLy Sylke All Rights Reserved CREDITS