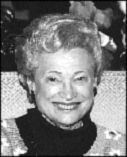 Jan Scripts
by Janic Marugg
---
Monrovia Dance Club, which my husband refers to as the "Danceless Dance Club," met in February for a social hour at Marge and Dr. Otis Platt's home and then we all dined out at Reuben's-Coco's. President Roberta Fisk presided at the meeting and Dick Lilley provided entertainment that caught everyone's attention.
Friends from way-back at Monrovia-Arcadia-Duarte High School (M.A.D.) got together to reminisce and have fun. Meeting recently at the Derby were Donna and Curt Kauffman, Bob Flannes (from Laguna), Walt Cornish (from Bakersfield) and the Maruggs. None of us have changed a bit...well?
The third week of April was a busy, fun week beginning at a Chamber Mixer on Wednesday April 17 from 5 to 7 at the Auto Club, 420 E. Huntington Dr., Arcadia. Thursday the 18th was Monrovia Schools Foundation's Recognition Banquet and Saturday the 20th was Monrovia's 10-year celebration of the Country Fair at Recreation Park. The fifth week includes the Monrovia Community Center's Volunteers' luncheon and Citrus Community College's annual Spring Festival on the 27th on Citrus campus.
Immediate past president of the Monrovia Chamber Ken Woodruff presented the Chamber's Monrovia Unified School District's "Employees of the Month" award to Margaret Davis, instructional aide at Plymouth School and the certificated award to Jody Little, teacher at Wildrose. Sandi and Bill Schroeder spent a week in Oahu where Bill competed in the Seniors Low Pitch Tournament. Bill said, "We beat the heck out of the Kiwanians."
The Monrovia League's February meeting featured Russ Anderson, a speaker from the Sierra Madre Search and Rescue Team who adequately described the tremendous physical undertakings of the the group to save lives. Eleann Michener, President, presided and Olive Hagamon introduced the speaker. The League made a generous contribution to the Search and Rescue Team.
Ran into Elizabeth Roberts at Pavilions and she told me of her recent trip to Northern California to visit her son, Steve, his wife Donna, and newest grandchild, Matthew, two years old. For the last fourteen years, Steve has been living in Maryland and working at the headquarters of Amtrak in Washington D.C. He was recently transferred to Amtrak's Western Division headquarters in Oakland, and so consequently Steve and Donna have relocated to Concord. This has been a wonderful homecoming to California for Steve and his family...and for Elizabeth a dream come true. Wish to mention also that Steve graduated from M.H.S. in 1966 and went on to obtain his Master's Degree in transportation from Northwestern University, hence the Amtrak connection. He has always been a railroad fan!
St. Luke's Episcopal Church celebrated its popular Mardi Gras at the church. Many, many arrived in diverse costumes and created historically accurate, clever and unique masks. "La Church de Sainte Luke" featured a Cajun style meal with a pancake dessert bar. Was a pleasure to find a seat at the table of the minister, the Rev. Gary London.
Congratulations to Mary Wilcox, who was the recipient of the Golden Apple Award from the Monrovia Unified School District. Mary has been so very, very involved in our community and is the "Event Coordinator" at our Monrovia Historical Museum. She arranges special tours and events for weddings, receptions, fundraisers, and parties, as well as many school class tours for Monrovia's students and other school districts. While writing about the museum, I must give special credit to Chester Zisk, one of our docents who gives over and above all to the museum.
Actually, Jerry and I had fun losing at Santa Anita Race Track at the Elk's Lodge "Day at the Races." We sat with our friends Betty and Bill and son Ian Brooks in the infield.
Was speaking over the phone with Nell Bortells and she told me all about brother-and-sister-in-law Phil and Jo Bortells (former longtime Monrovians) who have been living in San Rafael but have now sold their home, filled 114 boxes of things for storage, and purchased a motorhome and plan to spend two years traveling the U.S. When they finish the trip they will decide where to settle. Had a chat with Evelyn Hoel who told me that friend and neighbor Kay Coughlin was surprised and welcomed her two granddaughters, Dana and Michelle to celebrate her 85th birthday. In addition she also received gorgeous flowers from her daughter Claudia Rosenfeld, from Honolulu. Happy Birthday, Kay.
It was "Cherry Blossom Time" in Madonna Hall at Santa Teresita Hospital where Mother Vincent Marie, O.C.D. and the Sisters, President Michael Costello, and Dr. Elizabeth Smalley greeted a large crowd. Had the privilege to be at the same table with Helen and Dr. Robert Haugh, Marjorie Sue and Dr. Al Miller, and the speaker, who kept us laughing. It was the "41st Annual Cherry Blossom Reunion", a salute to members of the medical staff on George Washington's 264th birthday.
Attended the ribbon cutting and grand opening of Santa Teresita Hospital's "Alternative and Complementary Health Center" across the street from the hospital on Buena Vista. It is the first hospital- sponsored center of its kind in the State of California. Sat by Marybelle and Neil Smith and Ginny Joyce. Over 125 attended and watched the Honorable Bob Margett, state assemblyman: Phil Reyes, mayor of Duarte and Mother Vincent Marie, O.C.D. cut the ribbon. Mike Costello, C.E.O. of the hospital welcomed all and Father Francis Cassidy of Immaculate Conception Church did the blessing. The center provides acupuncture and Oriental medicine; chiropractic and craniopathy, nutrition and herbal therapies; colon hydrotheraphy and massage as well as spiritual attitudinal healing and also operates a health food store with full lines of vitamins and herbs.
Jackie Chittick and Margie Ferguson had birthdays in February and March. A group of us who celebrate one another's big days gathered for lunch at Mimi's restaurant for the occasion. Attending were Helen (Lillie) Twitchie Haugh, Marjorie Sue Miller, Ellen Davis, Mary Ann Rush and myself.
Many old-timers in Monrovia remember Martha Lloyd Davies Fredreckson who lives in Florida. She and husband Dale were in Southern California recently and it was great to see and meet her at the Derby. Both looking and feeling great.
The Monrovia Old Town Merchants Association presented a beautiful plaque to Rod Hammond, owner of Monrovia Jewelry and Loan, for his leadership and control of the downtown filming of movies and TV programs that have financially benefited the district and retail stores. Dave Gayman, owner of Valley Hardware, is chairman of the association. The recent Disney filming brought $145,000 to the association and $110,000 total to individual retail businesses. Come back, Disney!
While mentioning business, you may have already heard that a '50s style McDiner will be coming to Mayflower and Huntington and a Starbucks Coffee to the old Taco Bell.
The Monrovia Guild of Childrens Hospital held its annual "Day at the Races" last month. President Judy Winschel and husband Ken, along with co-chairs of the day Marilyn Forbes and Dodie Leonard with their husbands, George and Joe, kept assuring us all that we would win. Others in the group were past president Lillias Coombs and husband Dick, Mildred Dexter and friend Lou Bowler, Jo Ochoa, Sandy Hollifield, Mac Rush, Jackie Chettick, Judy and Art Thomas, Joanne Becker Scott, Joanne and Don Montgomery, Arlene and Howard Bracken, Eleanor Hendricks, and Shari and Chuck Pollard.
Linda Proctor, Monrovia's city clerk, is now a celebrity. She has just received word from the International Institute of Municipal Clerks that she has been designated a Certified Municipal Clerk, an honor no other Monrovia city clerk has earned and only some 200 in the entire state achieve. She received congratulory letters from the president of CMC as well as the director of education. They wrote, "You should be proud of your accomplishment and the personal effort it represents. It is a declaration that you care about your personal development and your profession. It symbolizes your efforts toward excellence and your commitment to learning." Congratulations Linda.
---
Return to Gem City News Front Page
---
---
© 1996 URLy Sylke All Rights Reserved CREDITS