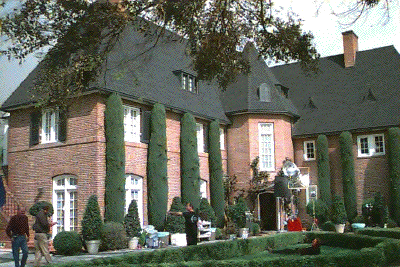 1913 French Norman mansion
---
This elegant brick mansion is only one of the six private
homes on the Monrovia Old House Preservation Group's
1996 Mother's Day Tour. Some of the rooms have been
decorated by a leading movie studio as sets for an
upcoming film. Local antiques and collectibles dealers
will display their goods throughout the interior. The
front lawn will feature exhibits by craftspeople skilled
in restoration and vintage decoration. Lunch from
Monrovia restaurants and caterers will be available for
purchase in the shady north yard.

---
Ticket information
Tour description
---
---
© 1996 URLy Sylke All Rights Reserved CREDITS