Development Opportunity
Location: Huntington Drive at Primrose Avenue, Monrovia, California

A full service city with a population of over 36,000, the City of Monrovia offers both tremendous development opportunities and exceptional market locations. Ideally located at the base of the beautiful San Gabriel Mountains, monrovia straddles one of the most extensive transportation networks in the world, offering easy access to Loas angeles and the major Southland counties of Orange, San Bernardino, and Ventura.

Monrovia's solid and diverse economic base and competativeness in the marketplace are derived from a strong commitment by the Monrovia City Council and Redevelopment Agency to recruit and retain businesses. This pro-business climate, coupled with the professionalism and resourcefulness of City staff, makes Monrovia an exceptional place to do business.

Monrovia recognizes that time is money. By "fast tracking" the development process, the Redevelopment Agency expedites the local regulatory and permitting system for businesses and developers. A long list of successful commercial, residential and industrial projects, with a total value exceeding $175 million, demonstrate Monrovia's commitment to providing the best possible service for the highest quality customers.

Building Permit Valuation: $36,802,839

Taxable Sales: $365,500,000

New Business: Claim Jumper Restaurant, Comp USA, Toys R' Us, GNP Computers, Lawry's Food Corporate Headquarters and the Wyndham Gardens Hotel.

Established Businesses: 30 acre Huntingon Oaks Shopping Center, regional auto center, high-tech office and R&D corridor, two high rise hotels, the Home Depot, and restaurant row.

Population          3.0 Miles   5.0 Miles

1980 Census             92,963       279,782
1990 Census            105,538       332,687
1993 Estimate          108,071       343,280
1997 Projection        114,442       369,761


Household Statistics           3.0 Miles    5.0 Miles

Median Age                           31.8           30.6
Median Family Size                   3.03           3.21
Median Family Income                $46,890        $44,199
Median Residential Property Value   $218,300       $198,460
Percentage of Population
 w/Some Level of College Education   22%            21%



Location:         Northeast corner of Huntington Drive and Primrose Avenue.

Property Owner:   Monrovia Redevelopment Agency

Land Available:   2.02 Acres

Traffic Volume:   200,000 cars per day at the 210 Freeway and Myrtle Avenue
                  25,760 cars per day at huntington Drive and Myrtle Avenue


Location:        Prime location at the crux of a major east-west corridor
                 featuring commercial, retail and high-tech R&D developments

Accessibility:   Ideal Accessibility on Hintington Drive from Myrtle Avenue 
                 and easy access to the greater Los Angeles freeway system via 
                 the 210 Foothill Freeway.

Community:       Monrovia is renowned for city services, area amenities, and
                 proven redevelopment experience.



* 2.02 acre site. Easy freeway access and high surface street visibility.

* 45 day "fast track" plan processing format.

* Immediate delivery of a clear site.

---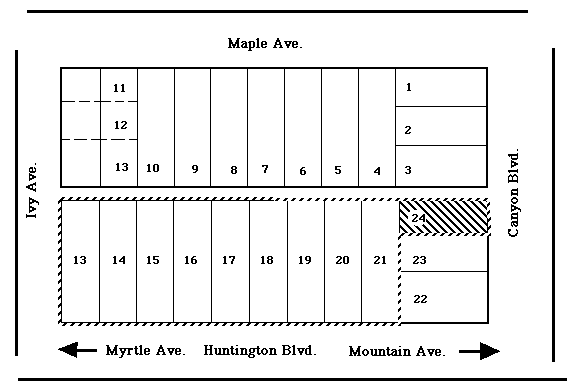 (not to scale)


---

Table of Contents
---
---
© 1996 URLy Sylke All Rights Reserved CREDITS