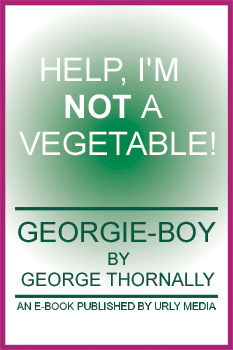 Where to find Georgie-Boy:

E-book: www.booklocker.com
download for $16.95

Limited Print Versions Available
@$24.95 plus $4.95 shipping.
Email:george @urly.com
or
Order via PayPal
GEORGIE-BOY
(Help, I'm Not A Vegetable!)
This is the story of a sixteen-year-old boy who became paralyzed and, as a result, was assumed to be dying of polio; or, if he survived, to have before him an unpleasant future in which he would live mainly as a vegetable. As it turned out, to almost everyone's surprise, the vegetable turned back into the boy who grew to manhood and went on to live a productive life. I was that young boy "Georgie-boy." This is my story.
Told from the young boy's point of view, this amusing account of so serious a subject will be especially illuminating for those who have a loved one in a coma or semi-comatose condition and must wrestle with the question of whether to terminate medical life-support. Alternatively, it can serve as useful background for those who may someday be in the position of having such power over life and death. If the decision goes in favor of "pulling the plug," it is not unlikely that the person making the decision will repeatedly look back and wonder: "Did I do the right thing?"
This story can help readers understand what the patient might be going through and provide background for the difficult decision some of you may have to face.
The appendix covers:

"Practical Steps You Can Take Immediately,"
"If All Else Fails," and,
"Around Hospitals and Staff".
These sections demystify the hospital experience and make is possible for you to accomplish what you believe needs to be done despite the system.
---
Praise for Georgie-Boy from Stanley Krippner:
"Thank you so much for sending GEORGIE-BOY: HELP, I'M NOT A VEGETABLE! I read it from cover to cover. Not only was it well written, but it was an inspiration to read. You have dealt with a potentially tragic life experience with wit, insight, and style. I really feel that it deserves a wide readership."
(Dr. Krippner is an internationally recognized scholar and educator and past president of the American Psychological Association. www.inacs.org/krippnercv.htm)
---
Sean Duggan, Seattle
"Thank you for sending me a copy of Georgie-Boy! I loved it and read it in one sitting (missed dinner!) ... I've now given it to my sister to read ... I know she'll love it too ... It was insightful, amusing, fun, and a damn good read .... congratulations!"
( Mr. Duggan is a top executive with firms such as Microsoft and AOL.)
---
William Read Woodfield, Los Angeles
"Your book arrived a couple of hours ago. Loved it. Touching, inspirational, powerful, and practical. Your doctor, hospital revelations and helplessness were moving and scary. After three months in UCLA cardiology, your experiences hit the bull's eye. I'm going to read your book again."
(Mr. Woodfield is a well known writer and producer: Mission Impossible, Columbo, Ironsides, Shaft, Voyage to the Bottom of the Sea, and many more.)