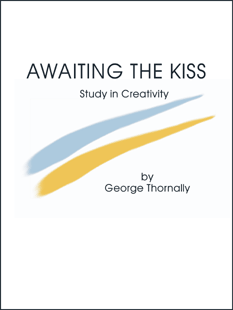 The Study of Creativity in e-book form is no longer available commercially for downloading. However, arrangements can be made with the author for seminars and workshops of varying lengths based on this material. Prices start at $25,000


AWAITING THE KISS
Study in Creativity

This book was originally prepared in the form of a written thesis presented to Johnston College of the University of Redlands, Redlands, California. The thesis, titled "The Creative Behavior Curriculum," described a project submitted as partial fulfillment of the requirements for the degree of Master of Arts in Humanistic and Transpersonal Psychology. The project was accepted in May, 1981,and the author was granted an advanced degree after completing all requirements.
Although the author has a degree in Psychology, he does not practice counseling. He will, however, coach individuals and groups on the study of creativity based on the information contained in this book.
AWAITING THE KISS contains the original curriculum together with additional new material. See especially the Foreword, Preface, and Epilogue.
It is now available in this electronic format as an "Ebook" that can be downloaded and printed by the consumer.
The author believes the creative person is first and foremost a well adjusted person. To the extent that this material or any adaptation thereof in any form including seminars, workshops, and articles, for example, reflects the author's view on the development of personality and motivation, the reader is cautioned to seek professional help where it may be indicated and not rely on the author and publisher in relation to achieving emotional well being.