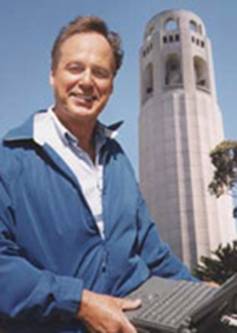 Online Community Pioneer, AFL George, George Francis Thornally, Jr., was killed instantly on Sept. 11, 2007 when the Grumman Traveler he was piloting crashed into Copper Mountain in Joshua Tree, CA, a little more than a mile from his home base at the Roy Williams Airport on a moonless night during a total electrical grid blackout.  For the last 5 years, in his retirement, he was pursuing real estate development and authoring more books.
A third generation California, George was born in Oakland, Ca in 1935, the son of George and Efale Taber Thornally, Sr. His Great Grandfather is the highly respected Sheriff William Nesbitt of Monterey County. His Grandfather Archibald Tabor was the Lead Attorney for property acquisitions for the Union Pacific Railroad, His Grandfather William Thornally built many of major structures in the Oakland area such as the Masonic Hall at Lake Merrit, the Telephone Building and the Montclair School.
George played football at Oakland Technical High School until he contracted polio in his sophomore year. He experienced an almost miraculous recovery after 6 months of being completely paralyzed and in what doctors believe was a vegetative state.  His book, "Georgie-Boy, Help! I'm not a Vegetable!", recounts the story.
Upon his recovery, he spent the rest of his High School years attending Punahou H.S. in Hawaii where he was living with his father who had become the leading dealer in high-end foreign autos.  Due to his experiences with paralysis and the moment of recovery, George was a changed person with a most serious outlook and was focused on the intellectual and political affairs of the world.  After graduation in 1953, he returned to the Bay Area, attended Menlo College and studied the real estate business with his uncle Edwin J. Thornally (at one time the President of the Oakland Real Estate Board) at Thornally & Co.
Starting in 1955 he attended the University of Utah were he served as Business Manager of the "Pen" literary magazine and Finance Chairman of the Union Building Board. As a student business analyst, he became knowledgeable in the "Uranium Boom" and the economic potential of the Intermountain Region.
He then returned to California to attend UCLA, majoring in Economics. At Mayor Norris Poulson's request, he performed a study of the Sawtelle "Redevelopment Area" in Los Angeles, providing the mayor's office with the report. It's fruition can be observed even to this day. He also worked with the Phillip Norton, Inc real estate firm in West Los Angles. In 1958 he founded Thornally-Bird enterprises in partnership with the well known author Christopher Bird, which rapidly grew into a multi million dollar company resulting in multiple divisions: Real Estate Development, Equipment Leasing, Mortgage and Finance, Literary Properties Development, and Research contracted by Rand, the Brookings Institute and studies for the 1963 Worlds Fair.
Starting in 1963 George was appointed by the U.S. Federal District Court as Administrative Officer for 4 entities in bankruptcy proceeding. He returned to college at Immaculate Heart College and completed his college degree and later completed his masters degree.  This lead to his development of a masters program in Creativity through Johnston College at the University of Redlands.
In 1969-70 George sponsored and worked with Buckminster Fuller on the development of his World Game.
Upon learning about the new Apple Computers, he was immediately convinced that this technology held the future and left immediately for Cupertino to become one of the first MacIntosh Dealers.  As time passed, he became convinced that his place was to act as an evangelist for the communications and informational revolution that was going to happen to the world.  George did workshops in San Francisco and nationally. Ultimately, he was "AFL George", one of the founding talent at AOL. His book "AOL by George" recounts those early days and his part in them. He presented workshops, spoke at national conventions and wrote articles, in addition to the Communication Forum meetings he hosted at AOL.
The BTI Company that he founded as an incubator for internet communication based projects fostered a prototype collaboration between Tandem Computer and Pac Bell to develop the "boxes" to run a commercial version of the web and produced some of the earliest web based applications and the ground breaking URLy Sylke Online Productions.  Access Presto!, the web production company, continues to this day in the role of a web production boutique.
On retirement, George once again took up flying private planes and began his career as an author.  Five years ago he moved to Yucca Valley where he could pursue all three of his current passions: flying, real estate development and writing books.
In his lifetime George did many different things first, showing other's what could be done and why, that have become standard practice in current times.
1.  Designed and built the first "San Fernando Style" apartment building, establishing a new business model and architectural style for multi-unit dwellings, targeted to young single professionals, that has been used ever since, locally and on a national level.
2.  Designed and built the Berkley House Motor Hotel, establishing the first business model for urban location motels.  The motel is, logically, now owned by the Ramada Inn.
3.  Created an Equipment Leasing Company that was the first to do restaurant equipment leasing.  He evangelized to the restaurant industry the financial advantage of leasing equipment rather than purchasing it.  That is now standard business practice for all non-chain restaurants.
4.  Developed through the Thornally/Bird company a method by which rural, low-income families could finance building and owning their own homes.
5.  Created a Masters Degree Program in Creativity that caused a big stir in that academic community and gave rise to all those companies that are currently providing creativity workshops to corporations and organizations.
6.  Evangelized and demonstrated locally and nationally what the new communications technologies via the internet would come to mean to the individual citizen and to business and demonstrated proof of concepts.  Ultimately, along with his associate Kent Fillmore, demonstrated to the world the concept of "online community" through the creation of AOL's Forums.
7.  Evangelized to business on a local and national level, the concept of the new business venue = the internet and the information entrepreneur.  This concept included web based business applications, online sales venues, and info/entertainment oriented web sites. He created the first ticket sales site on the internet, for instance.
George has also written 4 books =
"Awaiting the Kiss (a study in creative behavior)" - an academic description of his theories and processes for aiding individuals in accessing their creative potential and empowering it.
"AOL, By George" - a memoir about the early days leading up to and starting AOL
"Georgie-Boy, Help I'm not a Vegetable" - a memoir about his experience when he was 16 and paralyzed to the point of being medically declared to be in a vegetative state.
And recently completed "Virgin, the Mystery of Amos Virgin" - an historical romance mystery based on family lore.  For those that would like to know George better, Amos strongly reflects his inner self.
George was only married once and is survived by his only daughter, Nicole Liepman, of Las Vegas.
George was a Lieutenant in the Palm Springs Civil Air Patrol Squadron 11 and was very impressed with the quality of young people who were in the Cadet Program.  Recently he was working in his mind on finding a better structure to facilitate raising funding for the Cadet Program.
Sooo... "in lieu of flowers"... $ can be sent to:"
Donations should be in check, with the check be made out to:
Squadron 11 Civil Air Patrol, and in the memo section state: Sqd 11 Cadet Program. Please include a note that it is in memory of George Thornally.
The address is:
Palm Springs Squadron 11 -  Civil Air Patrol
P.O. Box 2663
Palm Springs, CA 92263
A Memorial Life Celebration was held at the last house George built in Yucca Valley starting at 2pm and lasted until sunset @ 5pm on Sunday October 21, 2007. Because it is was event for George's Community, it included being a finger food Community Pot Luck. There was an exhibit illustrating George's life and accomplishments, from baby book to his latest novel. Many of his friends only knew him from one aspect of his life, so it was of interest to all to see the hard evidence that some of the things he had mentioned to them about his past really did happen.
The more formal aspects of the event happened between 4pm and sunset. Friends from all aspects of his life spoke warmly of what George meant to them in their lives. Poems and prayers written by other pilots were ready by various people. The culmination was the playing of TAPs by one of the Civil Air Patrol officers and the presentation of the American Flag to his daughter Nicloe on behalf of her thankful nation.
.
Contact Stephanie Schoelzel @ 323-807-6471  for more information