---

---
What Is Home Town?
A location that presents and preserves what makes up a community.

A place to view examples of the best of human spirit in communities.

Where Is Home Town?
A community can be anywhere in the world. Each community of people defines for itself what a desirable social background is. Some communities thrive on a fast pace, such as New York City or Tokyo, while others favor a more bucolic tempo to their daily rhythms. Any community will do for this showcase, as we seek examples of interpersonal communications that work. Our first featured community is Monrovia, California.

Who Is Home Town?
You! You are Home Town! Your "home town" is not necessarily the place you were born, or the place where you grew up, or even the place where you are currently living. It's the place where your heart feels at home. Are you in a memorable "home town"? Do you live with bright summer skies and warm winds blowing across the fields, if only in your dreams? We'd like to bring your special place to the world. We are looking for people that are proud of their home towns and would like to share their communities with the world.

Why Home Town?
While it may take an entire village to raise a child, there comes a point of diminishing returns. Too many "villagers" tend to shrug off interpersonal responsibility. This may be due to the anonymity of life in a defused population; it may be the result of other forces. Whatever the reasons, populations that gather into smaller communities find civility and thoughtful conversation the rule.

Our first featured Home Town: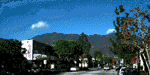 Monrovia, CA

(P.S. If you are a fan of the TV show "Picket Fences", you are already very familiar with Monrovia as the location for exterior town scenes.)

Look for new Home Towns to be selected soon.

If you would like to have your Home Town presented by URLy Sylke, send email to our Executive Producer George Thornally. You will receive instructions on how to gather photos and furnish documentation to qualify your Home Town.

HomeTown is one of the wide variety of entertainment programs run by Productions.
We invite you to check out more of them.


Inquiries about URLy Sylke Productions

Inquiries about ACCESS PRESTO! Services

webmaster@access-presto.com



© 1996 URLy Sylke All Rights Reserved CREDITS - URLy Sylke - PRESTO!