This site is designed for viewing with Netscape Browser using
Geneva or Arial size 10 font. Download Netscape


---

The Multinationals
(presented by Olivier Klink)
---
Extend Your Global Reach by Becoming a 13-month Wonder.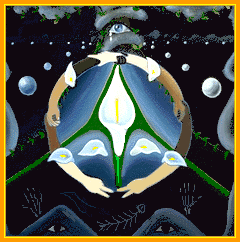 You are reading this message because you are using a browser that is not able to process frames. We recommend that you take advantage of the link above to download Netscape 3.0 or higher.

We suggest that you bookmark our site now so that you can return to it easily.
The Monterey Institute of International Studies is a top-ranked graduate school for international careers. In addition to the traditional offerings, a fast-track International Executive MBA is now available.

Briefly:

The International Executive MBA program provides a unique opportunity to join experienced business executives on weekends in Monterey to master the dynamics of global business and learn about business practices in foreign environments while working on an international business development project.

The convenient, weekend schedule fits the requirements of active business professionals throughout the West Coast. The 21-month and 13-month versions of the program address the differing needs of managers with varied backgrounds and experience. The location in Monterey, California provides an attractive and stimulating multicultural environment for intensive learning that is easily accessable by road or air.

This cohort program develops longlasting relationships among participants and faculty. Participants represent many industries, sizes, and geographic foci of international activity. As a result, participants learn from talented peers as well as from exceptionally qualified faculty.

Who should attend? The International Executive MBA program enrolls promising, mid-career business professionals with an active interest in international business, at least five years of increasingly responsible business experience, a bachelor's degree, and sponsorship by an employer with existing or prospective international business activity. Two versions (21-month or 13-month) of the International Executive MBA program for persons with different prior educational experience.


© 1996 - 97 URLy Sylke All Rights Reserved CREDITS

Blake:
I've had in mind taking a motorcycle trip through Canada and maybe up to Alaska. But around the world? I don't know.

Oli:
You'd want to have a fairly large and comfortable bike to do that.
George:
Jim took a BMW. Actually they took two BMWs. Jim rode one and Tabitha rode the other. These bikes took a terrific beating and came through it with flags flying. What an adventure!
Blake:
I'd prefer my friend to ride with me on my bike.
Oli:
If it's a really long trip, like around the world, you might want to take two bikes. One could be a backup in the event one fails.
Blake:
Oh, Oli, always thinking about computers and "backing up"!
George:
Guess what, guys, that was Jim's reasoning too. As it turns out, two bikes came home, but it's a bit more involved. Read the book!
Oli:
Right! Read the book. We'll get into it at the next meeting.
George:
I want to have the last word. I found the book fascinating. It definitely has adventure, romance and an interesting commentary on international business opportunities. But you know, Jim writes the book from his perspective--it's his book. I would like to read the book that Tabitha will write one day. There are many incidents that are terrifying and some radically funny. Her perspective would be fun to see, too.
Oli:
Maybe we'll get Tabitha to join us in the discussion on the Net.
Blake:
I'll settle for Jim Rogers.
George:
I get the last word, remember? Let's get both Jim and Tabitha here as guests for a discussion.
Oli:
George, you can't have the last word. "Multinationals" is my baby, remember? But since you proposed Rogers' story for discussion, I'll go along with it when you get Jim and Tabitha here!
NOTE. The meeting will be continued. We await to learn from George if Jim Rogers and Tabitha Estabrook will come to the meeting. Stay tuned! Jim Rogers' Investment Biker is available in paperback from most book stores. Book trade, call Adams Publishing 800-872-5627
Ernst & Young| 13 Month Wonders


Click on any of the following buttons to access another URLy Sylke program.
or
Click here for program descriptions that will help you decide where to start.


Inquiries about URLy Sylke Productions

Inquiries about ACCESS PRESTO! Services

webmaster@access-presto.com

© 1996 - 97 URLy Sylke All Rights Reserved CREDITS - URLy Sylke - PRESTO!